WAIT! Here's How To Make Primal Living The First Health
Approach
You Don't Eventually Give Up On
(special
one
time offer)
​
Add TheHealthy Primal Living Video Course To Your Order With Just One Click!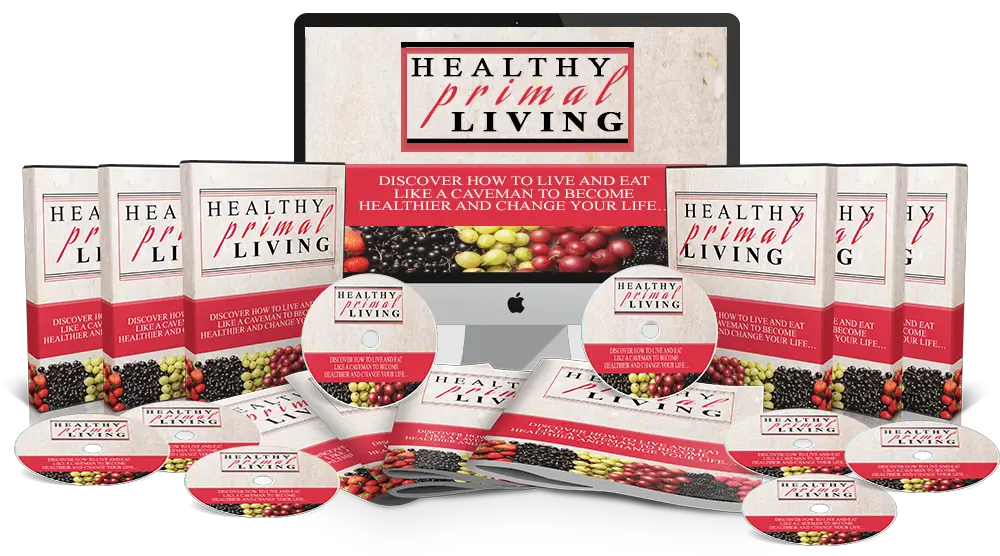 Just $47
Congratulations — You've Made The Right Decision! Th

ere's Jus

t

One Thing Missing…

Thanks for signing up to have theHealthy Primal Living Guideshipped to you.

Congratulations!

The guide is an in-depth, step-by-step blueprint to adopting the primal lifestyle so you can eliminate inflammation, heal your gut, and make your body invulnerable to stress, so you can transform your body into an unstoppable fat-burning machine (just like the bodies of our long-lost ancestors)…

But the thing is…

There's just one thing missing.

And this one missing thingcould bethe difference between success and failure…

Because you're still going to have to figure outhowto apply what's included in the guide by yourself.

You're bound to have questions…

What if you can't find the answers?

What if there are certain things you need to modify or change to fit your specific situation, but don't know how to do it?

After all, overhauling your lifestyle and adopting a new way to approach diet, exercise, and health can bevery trickyfor some people…

Which is why I want to show you exactlyhow to make the Primal lifestyle the FIRST health approach you don't ever give up on!
Introducing The
Healthy Primal Living
Video Course
If you're like most people, chances are you learn much better when you're provided with an interactive, visually-stimulating means of consuming information…
Which is why I filmed an exhaustive, 10-part video course that goes into deep detail on absolutely everything you need to know about the Primal Lifestyle (and how to make it work for you), such as:
Each and every important step to take you from Square 1 all the way to Primal Living EXPERT
What foods to eat and what foods to keep away at all costs
How to avoid spinning your wheels and stalling your progress
How to keep yourself accountable and stay on track every day
How to shift your mindset to make every single behavior change feel easy
And more
​
I sincerely want to make it as EASY as possible for you to absorb the information and training included so you can integrate the Primal lifestyle into your life seamlessly…
And I also want to make sure you don't fall victim to many of the common pitfalls that creep up on people who are new to Primal Living and severely reduce their results…
Avoid
The Common Pitfalls

ThatCreep Up On First-Timers And Severely Reduce Their Results
The most important reason for you to take the Healthy Primal Living Video Course is because many people who are new to the Primal lifestyle get sucked into common, completely avoidable pitfalls that result in:
Not losing any weight
Low energy and fatigue
Constipation and other digestive problems
Poor sleep quality
And more
These are the kinds of things that can absolutely KILL your results and make you want to give up onthe one dietthat CAN actually deliver the weight loss and health improvements you've been after for so long(when done CORRECTLY)…
That's why I want to walk you through the processstep-by-step, myself, to ensure thatyou don't miss a single one of the key elementsof Primal living and how to seamlessly integrate it into your own life…
Get Access Now For A Special
One-Time
Price
The best part is…
You can get access to theHealthy Primal Living Video Course right NOW for a special one-time price ofjust $47…
The reason I'm making this offer is because this is a critical pointinyour journey towards a LEANER, STRONGER, STRESS-PROOF body, and receiving the in-depth, comprehensive video training you need to complement theHealthy Primal Living Guideyou're about to receivecan make a TREMENDOUS differencein your ability to successfully reap the rewards that Primal living ALONE can provide to your body…
(which is why most people POUNCE on this offer when they get the chance)
And the truth is…
The average person will sign up for the guide, only to flip through it andnever implement any of the advice contained within…
They never realize the full potential of Primal Living, simply because, even after reading the super-simple, step-by-step eBook, they think, "it's too complicated" or they don't see results immediately (by falling victim to the common pitfalls I teach you how to avoid) and say "this doesn't work"…
But I know you're not the average person…
Andthat'swhy I'm making this offer to you.
Because I know you're ready to take ACTIONand eliminate the widespread inflammation, poor gut health, and chronically elevated stress levels that are making you FAT andtransform your body into a metabolic machine that INCINERATES body fat…
If You're Prepared To Act NOW, You'll Also Receive A
Fast Action Bonus
Fast Action Bonus –
High Quality MP3s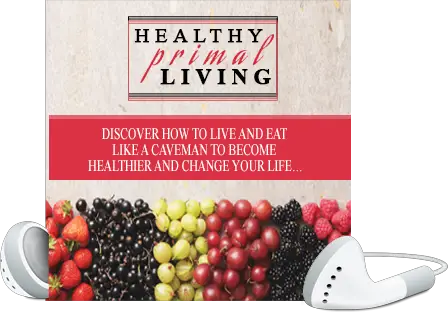 When you sign up for theHealthy Primal Living Video Course, you'll also receive10 matching .mp3 files for each part of the course…
This way, you've got the option to listen to an audio recording of the course while you're on the bus, out for a walk, or at the gym…
So no matter where you are, you can be making your way through the course and taking the steps you need to become a Primal Living expert (with the kind of physique that your friends and family can't HELP but admire).
(Valued at $27)
You've Got 30 Days To Decide If This Course Is Right For You
Skeptical? I totally understand.
That's why I'm offering you my30-Day Money Back Guaranteeto back up your purchase.
If for any reason, you're not 100% satisfied with what you learned inside theHealthy Primal Living Video Course, simply let me know, and I'll promptly and courteously refund every penny of your purchase.
No questions asked.
Click The Button Below To Add The Healthy Primal Living Video Course To Your Order With Just One Click!
Remember You Can't Get Access To This Special
One-

Time-Offer

Ever Again!

Take advantage of this special opportunity and critical moment in your health journey and give yourself the resources, training, and support you need tobecome a Primal Living EXPERT(and have theimpressive physiqueto show for it)…

Because you're deciding, right now,whether or not your body and health are about to THRIVE…

And I want to see you succeed…

I want you to reap some of the INCREDIBLE effects thatPrimal Living(and ONLY Primal Living) can have on your bodywhile you still can…

So act now, and add theHealthy Primal Living Video Courseto your order right now by clicking the button below:

To being the strongest, leanest, and healthiest you've EVER been,

Dr. Donna SchwontkowskiCertified Nutritionist

P.S. Still have questions about the video course? Check the Frequently Asked Questions below.
FAQ
Q. Who should get this video upgrade?
A. If you prefer to watch how something is done rather than read how something is done, this training is for you…
With this video training, you will be able to quickly understand and apply primal living into your day-to-day life… In many cases within days or even hours of getting started… Because of the step-by-step nature of the video training, it's the next best thing to hiring a primal health expert to show you how it's done. If you're looking to get the best results possible… you need this….
Q. How many videos are there?
A. There are 10, high-quality, in-depth videos that cover everything you'll find inside the Ebook version of the guide…
Q. How is this different than the Ebook version of the training?
A. Although the material covered is the same, it's done in a format that makes it much easier for you to learn and TAKE action as quickly as possible.
Buy why video?
Did you know that most people rarely make it past the 2nd chapter of an eBook? It's not because they don't want to see results…… it's because most people out there need to see something done to learn and stay focused. That's exactly what this video upgrade is all about…
…presenting the content in a format that makes learning, applying what you learn, and improving your health and wellness with primal living… right away.
Q. In what format is the training delivered?
A. You'll receive 10 high-quality video in MP4 format that you can download and view any time you wish. When you take action today, you'll also get a high-quality MP3 so you can listen to this while you're on the go if you like.
This makes it easy to see a FAST improvement in your health and wellness with primal living.
Q. How much is this?
A. For a very limited time, you can access the video upgrade for the low price of just $47.
Of course, you would normally expect pay hundreds or even thousands of dollars for this sort of step-by-step information… In fact, the normal price for this video upgrade is $197… You won't pay anywhere near that today.
If you get access to this today, you'll get the video training PLUS the bonus MP3s for just $47 (Over 75% OFF The normal pricing).
Q. Why do I need to get this today?
A. This is a very limited offer for customers only.
If you close this page, I cannot guarantee that you'll ever find this training at a price this low ever again.
Not to mention, are you really going to spend the time to go through the Ebook and apply what's inside?
You may be one of the few people that actually will, but…
…wouldn't you be much more likely to see results by being shown how to do all of this as opposed to just reading about it?
If you're like most people, the answer is "YES."
Don't wait another minute to change your life by living and eating like a caveman!
Q. Is there a guarantee?
A. Of course. You get a FULL 30 days to make sure this training is for you. If for any reason, or no reason at all you're not 100% satisfied with what's inside, simply send me an email, and I'll refund every penny of your tiny investment…
No questions asked.
Q. How do I get INSTANT ACCESS to the training now?
A. To upgrade to the video version along with the Fast Action Bonus MP3, click the link below now…
JUST $47