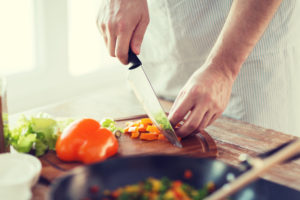 When you're first starting to put together a kitchen, chances are you'll inherit things from friends and family. Another good way when you have little money is to check out thrift stores. That way you can figure out how you like to cook. You'll be amazed at how many cooking methods there are.
Plus, you can make better quality meals for a lot less, and your health and bank account will improve. For most restaurant dishes, there's a recipe out there online on how to recreate it.
Once you learn to love to cook, then you can start saving up to buy better equipment. I thought I'd list what I can't live without and why.
Instant Pot
I used to use slow cookers, and I had separate pressure cookers. Then at some point, I purchased an electric multi-function digital cooker from QVC. It was fun to make chicken fricassee and soups. But it was missing a good browning function.  So when a friend told me about the Instant Pot, I got one when it went on sale around the holidays.
I love that you can adjust the saute setting from low to medium to high. That allows me to brown meat and gently saute vegetables without burning them. I love the stainless steel insert so that the browned meat can caramelize and leave the good bits on the bottom. Then I use some wine or broth and deglaze. It makes for a much tastier sauce.
I've learned how to steam corn on the cob as well as steam to reheat leftovers. I still don't have a microwave.
Hamilton Beach Food Processor
I needed an inexpensive food processor. I wanted a gold standard Cuisinart but was honestly nervous about finding one used. You never know how people treat their machines and I didn't want the motor to burn out too soon.  I was tempted by the food processor attachment for the Kitchen Aid, but there were a few reviews that made me pause. I may still get it because then I only have the Kitchen Aid on my counter, but I digress.
Hamilton Beach is a good brand. Their small kitchen appliances do last and work well. I use the food processor to quickly prep things like veggies for a soup. If I want a mire poix, I use the frozen stuff in the bag.  It saves you a lot of time and hassle.
Steel Knife Set
When I first moved out, I spent money on a good knife set, and it's lasted me over 25 years. I do need to get the big chef knife professionally sharpened since I can't get it to keep a good blade these days. But the bottom line is you need a sharp knife that slices easily through what you're cutting. You never want to have to saw back and forth.
Granted there will be times like with a butternut squash where it gets a bit stuck. You should watch this Craftsy Class on Complete Knife Skills with Brendan McDermott to see how to handle it.
[amazon_link asins='B00FLYWNYQ,B008J8MJIQ,B00L5J11S0′ template='ProductCarousel' store='cyt-azn-20′ marketplace='US' link_id='f7fd5220-a48c-11e7-9acf-2bab45c26515′]
Kitchen Aid Stand Mixer
I was given my Kitchen Aid stand mixer in my late 20s. I used it on and off but never really figured it out until a few months ago. Now I can't imagine life without it. I really am at the point where I'm whipping things up and zipping things out. I love all the accessories that you can attach to it. I will buy some accessories used. I got the pasta maker used.
The zoodle attachment is super easy to use. I'm still up in the air about the vegetable sheet attachment. And I'm saving up to get the pasta extruder next.
Saute Pans
It's tough. You want a pan that can get a good sear but you also want nonstick because who enjoys scrubbing the pans? That's a big NOT me. I discovered Scan Pans about two years ago and love them. I can get a steak seared off and then toss it into the oven to finish cooking using a Scan Pan.
I can take a frozen chicken breast and pop it into a Scan Pan with some broth and veggies and braise it on the stove for about twenty minutes, and dinner is done. (Covered, obviously)
I have a small 8″ and a larger 10″ both with lids. The 10″ really is big enough for when I have to cook most things. You'll need to make adjustments based upon how many people you're cooking for.
Wok
Stir fries are a great way to save money. You don't need a lot of meat to make a healthy and filling meal. So get your wok!
I also love it for when I have a lot of leafy greens. Two pounds will easily fit in the wok and it cookes down evenly.
[amazon_link asins='B0001ZYYM4,B00AZFZOGK,B0067N7Z0C' template='ProductCarousel' store='cyt-azn-20′ marketplace='US' link_id='67372337-a48d-11e7-acae-1b8e086dcada']
Cook Yourself Thin is the resource hub for women 35-55 looking to lose stubborn pounds by cooking and eating the foods you love.