Tuna noodle casserole is one of those things you either love or hate. And if you love it, you think you can't have it because it's too fattening. Am I right? Yes, I love it too but rarely eat it. I found this video on how to make it lighter!
Watch and see –

I love Ellie Krieger and her philosophies of adding in more vegetables to lighten it up. She uses mushrooms to provide a meatier texture.
What Would I Change
You could substitute in spaghetti squash and broccoli slaw in place of the fettuccine noodles. You could also use cauliflower rice instead of pasta (or "pasta") altogether.
There's also the shiratake noodles made from the konjac yam. It will absorb the flavors well and blend right in. They are very low carb and low calorie.
I may add in snow peas and some diced carrots for color and texture.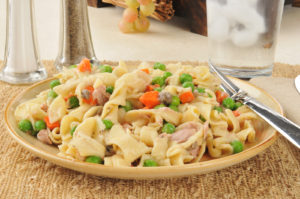 This isn't a dish that lends itself well to being Paleo. But sometimes you need a comfort food.
Make It A Meal
Because of the peas and mushrooms, this is a meal in itself. But sometimes you want a counterpoint. So I'd make a salad because it's cool and you could use a nice vinaigrette dressing which balances out the creaminess of the tuna noodle casserole.
Cook Yourself Thin is the resource hub for women 35-55 looking to lose stubborn pounds by cooking and eating the foods you love.
Resources
[amazon_link asins='B00BTMDALO,B00BP36RW6,B00FRDY67I' template='ProductGrid' store='cyt-azn-20′ marketplace='US' link_id='f3a0d63d-0e61-11e7-81e7-f355c7ddc365′]