Root vegetables are still in season at the moment I'm writing this. Don't turn up your nose at the turnip.  It's a wonderful and inexpensive vegetable that can be a great part of your meals.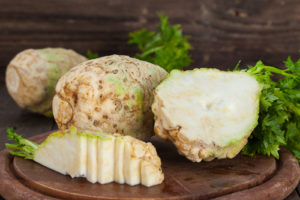 How to Choose the Vegetables
If you buy organic, the veggies won't be completely free of blemishes. Some find that organic veggies taste better. I subscribe to a CSA and I have a garden. Since I grow in self watering containers, you might think I won't get as good of root vegetables as if they were in the ground. But you'd be surprised!
Plus some like celery root and kohrabi look pretty crazy to begin with.
So how do you choose? Well they should be firm and a bit springy in general. Secondly, it depends upon what you want to do with them.
There are two types of root vegetables – older and younger. The young root vegetables can be good raw or lightly cooked. I have some young turnips that I'm going to steam. You can think of these like new potatoes. They're best when kept fresher.
The older root vegetables are better roasted or stewed.
Watch this fun video with Jamie Oliver. I adore him and saw him live once about ten years ago making risotto and pasta.
But What About Radishes?
Ok, you got me. There are root vegetables that are grand raw like radishes, carrots and jicama. But they do fall sort of into the younger category. If you have old radishes, you should try roasting them rather then trying to slice them for a salad.
Root vegetables are quite nutrient dense. You can make a lovely vegetable soup or stew out of them and feel quite satisfied. I use kohrabi and celery root (also called celeriac) in place of potatoes sometimes and you can't taste the difference.
If I have a younger celery root, I'll dice it up and cook it with my eggs in the morning and I don't miss potatoes.
Roasting vegetables brings out a sweeter side to them. So be careful of seasonings and sauces if you serve roasted vegetables.  You can also roast veggies and puree them as the side to the meat rather then putting the vegetables directly on the plate. Also, if you have leftover roast veggies, you can puree and then thin it out with some broth for a lovely soup.
Start by adding in one weird root vegetable and see what you think.
Cook Yourself Thin is the resource hub for women 35-55 looking to lose stubborn pounds by cooking and eating the foods you love.