I love cooking mussels and clams. It's usually quite inexpensive for the two of us. And it feels like a much more fancy dish than it really is.
I picked up 30 clams and 16 mussels for less than $10. It's important that you trust your fish person. I have had good luck with three of my five supermarket. The other two I learned by mistake. If the majority of the clams and mussels don't open, it's a waste of money. So go with quality.
How to Prep the Shellfish
When I get my shellfish home, I pop them in the refrigerator. Then about an hour before I cook, I put together some salty water and let them hang out. They naturally clean themselves and spit out the grit.
If the water gets really dirty after 30 minutes, I'll prepare another salt water bath. Then I gently pour out the shellfish. I don't want to crack any shells. And then clean out the container and pour in more salt water. It's important to use cold water. Think ocean.
Then when I'm ready to cook, I need to spend some time cleaning the mussels.

What to Make With Them
My mom and I used to go to a local place and get a bucket of steamed clams. I am happy with just that and some crusty bread. My husband prefers something a bit more composed. One of his favorite dishes at Buca di Beppo is the Linguine Frutti di Mare.
So I'll make steamed mussels and clams with water and fresh chopped parsley in my Instant Pot. On the stove, I'll cook up linguine or fettuccine and then add in some butter. I then toss in the clams and mussels with the shells. Then I sprinkle some chopped parsley on top and maybe some grated fresh Parmesan cheese.
Sometimes I'll add in some canned diced tomatoes and sprinkle fresh basil over the top. I cut them into small ribbons called a chiffonade.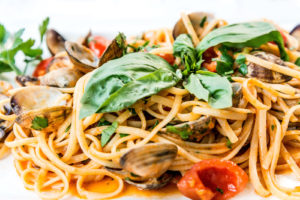 And I always have some fresh lemon wedges. It adds a nice burst of freshness that makes everything taste so good. And really that's one of the keys to cooking yourself thin.  Eat something delicious that makes you feel satisfied. Then you won't be tempted to grab more food later.
In warm weather, I'll make zucchini noodles and toss those in. That way I don't have to make a separate veg. Tonight I'll make a salad with a lighter lemony vinaigrette. (when you sign up for my email list, I send a lot of those recipes like salad dressings and salsas, etc.)
Because the shellfish taste so rich, you don't end up eating much. They're low in calories and full of really good vitamins and minerals.
So embrace your shellfish. Of course, my fish markets also sell oysters for about $1 each. I'm still too afraid to buy them. I keep thinking I need to get a special knife or glove and that it requires skills that I don't have.
What do you think?
[amazon_link asins='B00FLYWNYQ,B01MFEBQH1,B00N310CKG,B00KLFU02W' template='ProductGrid' store='cyt-azn-20′ marketplace='US' link_id='6fa5dd5b-dc34-11e6-b1d1-a11fed625609′]