To some, the romanesco looks like an incredible flower or fractal if you're a nerd. To others, it's a torture device (kind of like if you've ever seen Brussels sprouts on a stalk). Unfortunately, people shy away from this vegetable because they aren't sure what it is or how to cook it. Is it like cauliflower or like broccoli? Well, I'm here to tell you to embrace it and learn to love it while it's in season.
Watch this video and be inspired at all the ways you can cook it.
What Is Romanesco
Cauliflower, broccoli, cabbage, kohlrabi and brussels sprouts are all in the family of Brassicas. You eat the flower of the plant. Romanesco is a variety of broccoli.  It's lighter in flavor like the cauliflower but with a lovely nuttiness that really comes out when you roast it.
You can also saute it in a pan with some olive oil and lemon juice with zest on the top. Some people like a bit of red pepper flakes for a pop of flavor. You could use chili flavored oil in place of the red pepper flakes as well.
Romanesco is delicious steamed with butter or olive oil and a splash of vinegar. My hubby likes champagne or balsamic. He puts red wine vinegar on his steamed spinach.
Choosing Romanesco
I get mine in the CSA box so they're chosen for me. The ones I've gotten this season are small and about the size of a softball. That's perfect for two people. I roasted with olive oil and thyme. And then I'd just sliced it in half. It was a gorgeous side on the plate.  I served it with pork chops and another time with steak.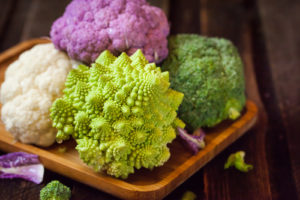 The romanesco is like cauliflower. It should look fairly clean and be heavy for its size. And the color should be vibrant. I mean, it's one of those things that looks like it should be fake, like a blue potato. But the more intense the color, the fresher the romanesco is. And that means it will have better flavor.
Since it's like broccoli and cauliflower, feel free to substitute in the romanesco in those recipes. You may find a new favorite vegetable.