I was really fortunate to receive this recipe from Almas Akhtar for a spicy Asian tilapia with roasted Brussels sprouts. And she sent me pictures! She sent it via my Facebook page. If you have a recipe you'd like to share (and a link back to wherever), please let me know. I love sharing great recipes.
HEALTHY-SPICY-SOUTH ASIAN CUISINE
By Almas Akhtar
I am a Pakistani-American, am used to used to eating heavy curries like 'chicken masala' and meat based rice dishes like 'goat biryani'. Most of the Desi Pakistani curries are yogurt based, cooked in oil and chopped onions, eaten with naan( bread). Rice entrees are layered with oil, tomatoes, meat and fried onions.
Though these 'curries' and 'biryanis ' are quite rich in flavor but very high in calories.
And Her Easy Solution
So when I signed up on my fitness blog and started watching my daily calories intake I tried to create somewhat a new cuisine which is rich in south Asian spices but with very little oil and yogurt, mostly grilled or broiled. I serve it with fresh salad or stir fried vegetables to maintain the flavor and keep it low in calories.
Three Inspiring Ideas
Broiled Tilapia with spicy ? masala served over fresh greens salad ? approximately 135 calories in one serving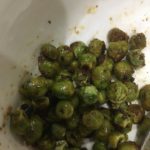 Stir fried peas in chaat masala ( spicy powder) approximately 58 calories 1 cup
Grilled chicken cubes on a skewer served with fresh cucumbers ? approximately 120 calories