Sumac chicken with cauliflower and carrots is a quick and easy sheet pan dinner. You know how I love easy clean up. But what is sumac? It's a spice made from a dried berry. I'll tell you more after the video.
Now watch this to get inspired:

You can find the full recipe at Cooking Light.
Tell Me About Sumac
Sumac is made from a deep red berry that grows on the sumac bush in the Middle East. It was used to add tartness to dishes until the Romans found a way to grow lemons.
You may have to go to a specialty store to find it or purchase it online as it's not widely available. (Update: I found it in my local Safeway, so it's not as hard to find as I thought)
It pairs well with lamb, chicken, and fish. You can sprinkle it on top of hummus.
If you can't find it or don't want to buy any, you can mix the zest of a lemon with some salt and use that in place of the sumac.
What Would I Change
Not a lot. This recipe sounds really delicious. I may use a little less oil. You could substitute in lamb in place of chicken. And I would be interested in trying it on pork. I love making pork with either a bit of lemon juice or orange juice.
You could substitute in romanesco for cauliflower, or do a mixture of both depending on what you have on hand.
Another good substitution is parsnips in place of the carrots. I just got some baby turnips in my CSA box. I'd probably cut them in half and add them in as well.
You could put in leeks and whole garlic cloves.  I'm always using roasted garlic cloves in other areas, so if you're going to be heating up your oven anyway, toss in some garlic to get roasted as well.
How Mine Turned Out
I'm updating this since I made it this weekend. It was really tasty. I'm a huge sumac fan now. I found a small box in my local supermarket for under $4. (Safeway if anyone is asking.  Safeway has a great spice section compared to my Nob Hill. I didn't check Lunardi's or Whole Foods.)
I only used two pieces of chicken and a few carrots and cauliflower florets. However, I did add in some small potatoes that I quartered. And I didn't finish it with the extra olive oil. I did chop up fresh flatleaf parsley from my garden with cilantro and it added a great herby flavor and smell to the dish.
Here's how it looked before putting it into the oven for the first twenty minutes: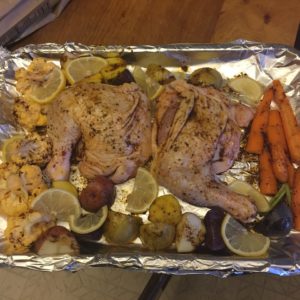 And here's where I added in the onion wedges before the final twenty minutes. I did stir things up a bit.: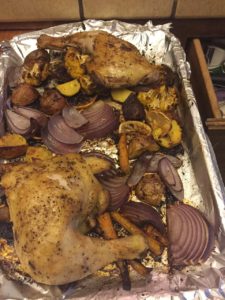 Here's the final dish. I should get prettier dishes, but I so love these Southwestern dishes hubby and I bought from Costco or Priceclub when we were first living together.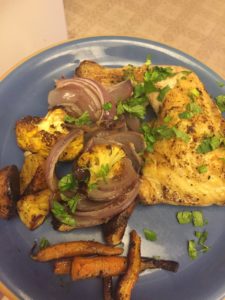 Make It More Paleo
To make this dish more primal, you'd want to use sweet potatoes or turnips rather than white potatoes. And you'd want to substitute in ghee for the olive oil.
Interested in learning more about the primal lifestyle? Check out this free book offer.
Cook Yourself Thin is the resource hub for women 35-55 looking to lose stubborn pounds by cooking and eating the foods you love.​​​​​​​