I'm in love with Brussels sprouts salad. My biggest challenge is shredding them finely enough. However, this recipe has you roast the sweet potatoes and Brussels sprouts before tossing with the salad dressing. So you don't have to shred them as fine as if it were a raw Brussels sprouts salad.
Watch the video!
Some Cool Modifications
You could use butternut squash instead of sweet potatoes. You could also use parsnips since they are also naturally sweet. The recipe seems to make a ton of the salad.
So if you like the salad, make a big batch on Sunday and then set up a few Mason jars. Put the dressing in the bottom and the salad on top, and it's good to go for lunch time. Just shake up the jar and pour it out.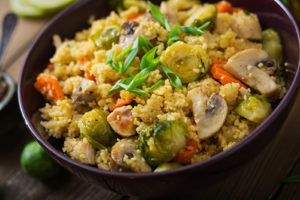 You could also toss in some roasted beets and cooked broccoli. If you like carrots, you could roast them along with the sweet potatoes. Or you could shred them and leave them raw for a crunchy counterpoint.
If you want something "meaty" flavored, add in some mushrooms.
This recipe lends itself to bean sprouts. You could add in tofu if you wanted more protein. Also, if you have leftover rice or couscous, you could blend that in.
Cook Yourself Thin is the resource hub for women 35-55 looking to lose stubborn pounds by cooking and eating the foods you love.​​​​​​​