I've made a quiche with hash browns for a crust that turned out great. Then I saw this video for sweet potato crust quiche. And I have to say I'm inspired. I'm going to make it this week. I have some spinach, eggs, and cheese in the fridge.
Watch the video and see what you think:
What would I change
The recipe calls for canola oil I'd use grapeseed or olive oil. And I'd use a shredded blend of Swiss and Gruyere cheese that I buy from Trader Joe's.
Spice-wise, I prefer a little nutmeg in my quiche. And I'm not that fond of putting hot pepper flakes in everything.
I'd probably get one large sweet potato and use a smaller pie plate or ramekin.
Also, I get a bit grumbly when I need eggs and egg whites. I'd rather just use four eggs and be done with it.
Using a Mandolin
I don't have a food processor. I do have a Kitchen Aid with the rotating slicer attachment. That works great on potatoes and sweet potatoes. I know that I can't cut that thinly or uniformly. And I think getting the slices thin enough is the key for a good crust.
I do have a mandolin. They're inexpensive. Just remember to use the guard so you don't tag your fingers. A trip to the emergency room is never fun.
Then you just use a consistent motion to ensure that the slices are similar.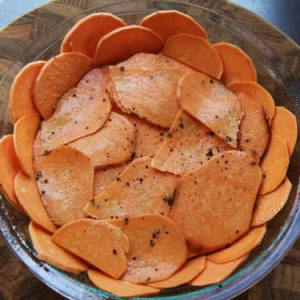 Make It A Meal
I think all you need to make it a meal is a glass of wine.  But a nice crisp salad could be enjoyable as well.
I love quiche for breakfast, lunch, and dinner. That's really funny since I say I dislike eggs. I love eggs that are doctored up with cheese and vegetables now. I still can't eat a plain scrambled or fried egg. And I can't stand omelettes. but enough about me.
Other Ideas In A Quiche
There are so many options for adding to the egg to make a good quiche. There's Swiss and bacon for the classic Quiche Lorraine. I love pancetta and spinach. You can add in leftover ham or chicken.
You could use Swiss chard or kale. I would cook them a little bit before putting them in.
If you don't have fresh spinach, use frozen. Just be sure to thaw it out a little before adding it in.
Quiche is a great money saver since you get a whole meal with inexpensive ingredients.  Just remember to watch your portion size. And make it with a vegetable crust instead of the standard pie crust.
What's your favorite quiche filling?