You want some healthy snacks to nibble on while everyone is chowing down on the insane stuff? I have three right here for you.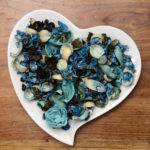 The key when focusing on healthier alternatives is that you don't feel deprived. You've heard that a lot…probably because it's true. If you're dying for some potato chips dipped in onion dip, and you're trying to nibble on some healthy alternative that tastes like twigs and leaves, you're not going to be happy. And worse, you'll be resentful. No one needs that.
What Are Your Options
You could just give yourself permission to eat whatever you like and then drink water and eat lightly the next day. And that may be a good plan.
You could also decide to eat a little bit of your favorites, and then have something else for yourself. And you can find ways to make it work. Instead of potato chips, dip crudites into your favorite onion dip (that's what I do).
Your other option is to make some delicious options, and only eat those. But you'd better bring enough for everyone.
White Pizza Wonton Crunchers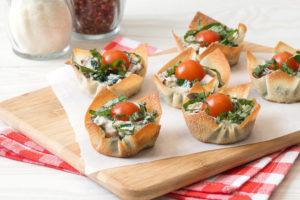 This recipe is courtesy of Hungry Girl.  This recipe tastes a little like a white pizza. You could also use the wonton wraps and cupcake pan to make your favorite pizza combination.
Just be careful with how much pepperoni and sausage you put in. You can find turkey sausage crumbles that are a healthier alternative to pork sausage.
Or cook up the pork sausage and drain it really well. Some people even rinse the cooked crumbles to get as much of the grease off as possible.
Pork Sandwiches With Coleslaw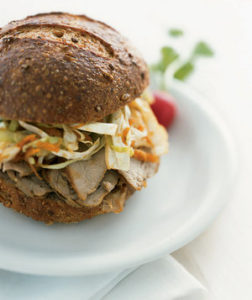 This recipe from Real Simple uses a pork tenderloin so you don't need to spend much time cooking.
Look for whole wheat or sprouted wheat buns. Or you could serve it on lettuce or cabbage leaves if you're going Paleo, low carb, or Keto.
You could also make pulled pork, kalua pork, or pulled chicken instead.
As a little trick, you can buy rotisserie chicken and shred that instead to save yourself time.
When making your own cole slaw, use light mayo. And feel free to use less than the recipe calls for.
Add more spices and even heat with chile peppers. It makes you drink more water, and it helps boost your metabolism.  Plus a well seasoned dish is more fulfilling. You don't need to keep eating more and more. You're satisfied.
Baked Buffalo Wings With Blue Cheese-Yogurt Dip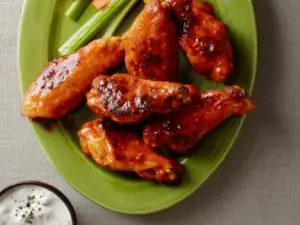 What's football without Buffalo wings, right? Well, you can eat guilt free with this recipe by Food Network by baking them instead. And remember what I was saying about spicy foods.
The other nice thing about Buffalo wings is you serve them with celery. That gets you more fiber and water and fills you up faster. So keep a lot of celery sticks on hand.
If you buy a pre-made hot wings sauce, make sure you check the sugar content first. As always, though, it's a balance. These wings will be healthier since they're baked.
And once you start making dips with yogurt, you may never go back to sour cream.
Are you hosting or going over to someone else's for Superbowl Sunday?