I love spaghetti squash. My mom used to make it in the 70's and 80s. I loved it with marinara or just butter and some grated Parm cheese (yeah, the stuff in the green can).
But one squash can product an awful lot of spaghetti. So get creative with it.
Watch this video for inspiration

And you can find the full recipe at Cooking Light.
How to Prepare Spaghetti Squash
I know I didn't like to buy large, oddly shaped squashes. Butternut? Forget it. I'll buy it pre-cubed. But it doesn't taste the same.
Spaghetti squash is another one. I worry about my knife slipping or getting stuck.
Just an aside, delicata squash is wonderful. No peeling or de-seeding really necessary. And it has a thin skin so it's easy to cut up and toss in a pan with onions and olive oil for a delicious side.
If you don't have a slow cooker or a pressure cooker, you should slice it in half lengthwise.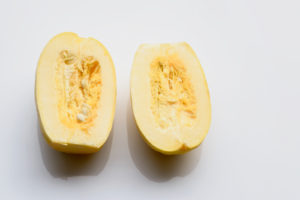 Then scrape out the seeds. If you have a jack-o-lantern scraper leftover from Halloween, it does a GREAT job on this. Then put the halves flesh side down, skin side up in a baking dish.
If you're using an oven, roast it at 400 for about 30-45 minutes. It depends upon the size of your squash.
If you have a microwave, add 3/4 to 1 inch of water and cover the dish with plastic wrap. Microwave on high for 10-12 minutes, turning your dish halfway through cooking if necessary, until you can easily pierce the squash with a fork.
Then you let it cool down and scrape out the goodness.
What If You Have Kitchen Appliances
You definitely may want to go to your local thrift store and get a slow cooker or pressure cooker. Or ask a friend to play around with it. It's not for everyone, but I think it can short-cut a lot of the boring work.
You cut out the step of having to cut open the squash and scrape out the seeds if you use a slow cooker or pressure cooker.
For a slow cooker, poke about 10-12 holes into the skin. I use a fork so I don't have to do as many punctures. Then place in the slow cooker with about a cup and a half of water. Turn it on low for 4-6 hours. Then let it cool on a cutting board until it's ok to touch.
If you're using a pressure cooker, use a rack. Add in the minimum amount of water your pressure cooker needs to come to pressure. One of mine is about a cup and another is a cup and a half. Put the squash in and cook at pressure for 12-20 minutes. It depends upon the size of your squash. Do a quick release and let it cool on a cutting board.
Some people prefer to cut open the squash and scrape out the seeds. It's a personal choice. I'm lazy and would rather cut it open when it's soft. Nom Nom Paleo shows how to slice it in half in the middle and cook it in the pressure cooker.
When the squash is cool, slice it open and scoop out the seeds. Then take a fork and glide it along the length of the squash and pull out the strands that are like spaghetti.
Resources
[amazon_link asins='B004P2NG0K,B01NBKTPTS,B005MMNBDO,B00B7N00JU' template='ProductCarousel' store='cyt-azn-20′ marketplace='US' link_id='adfb0dc8-0603-11e8-9f29-f11a3cd4846d']
Cook Yourself Thin is the resource hub for women 35-55 looking to lose stubborn pounds by cooking and eating the foods you love.