I'm loving all these new bake in recipes like spaghetti squash lasagna with spinach.
Watch how easy it is:

You still need to cook the spaghetti squash beforehand. And then you assemble the layers before baking.
Time Saving Tips
If you want better results more easily, prepare the spinach filling and meat filling the night before and put it in the fridge. The flavors will develop and it will be a lot tastier.
Then before you leave, put the spaghetti squash into a slow cooker. It needs 4 to 6 hours on low. So if you're going to be gone all day, you may want to use a timer.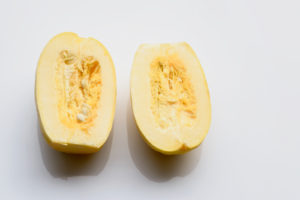 If you have a pressure cooker, it will be done in less than 30 minutes.
You can also prepare the spaghetti squash the night before as well. Then the strands will be hanging out with the spinach filling and absorbing more delicious flavors. Just remember to save the shells to bake them the next day.
Also, Jimmy Dean has pre-cooked turkey sausage crumbles that are tasty. You can use them in place of cooking turkey to save time.
Other Ideas
I've seen other recipes for taco spaghetti squash. It also uses ground turkey.  So if you have any turkey or squash leftover, this is a good second meal to use with similar ingredients.
Cook Yourself Thin is the resource hub for women 35-55 looking to lose stubborn pounds by cooking and eating the foods you love.
Resources
[amazon_link asins='B00FLYWNYQ,B076QJNK8G,B004P2NG0K,B00B7N00JU' template='ProductCarousel' store='cyt-azn-20′ marketplace='US' link_id='40a3962e-35dc-11e8-a63f-e9eded9df4d0′]